Before we get started, I want you to have a look at your email inbox. Can you notice how many unopened emails are there versus the total number of emails? Well, most of us just scan for our favourite brands, deals, or some enticing subject lines while the significant chunk of the emails remains ignored.
As reports suggest that an average person receives around 121 emails in a day, it's really tough to stand out in such a big and somewhat boring sea of emails. You need more than just a lucrative subject line for someone to open your emails. However, don't underestimate the importance of subject lines. They are extremely crucial as well.
As per a recent report, "the average email open rate across industries was found to be 17.8%. The click-through rates were 2.6%, while click-to-open rates averaged to 14.3% across all industries in the past year."
Having defined the industry benchmark, let's look at some innovative ideas to boost your email open rates.
It's all about timing
The time your recipients receive the emails broadly defines whether they would open your email. Hence, it's crucial to track down your previous emails' performance and chart out a schedule that is the best suited for your target group.
To be precise, you need to know your target customer in and out. Having a deep insight into your audience's age, location, and occupation would enable you to highly customize your email marketing campaigns, which would eventually result in better open rates. The best way to do so is figuring out how your target audience spends their average day and then shoot your emails at the ideal time.
Still having a tough time determining the right 'time' for your audience? Salesforce email specialists and Mailchimp experts are your best bet to drive those click-through rates higher and higher for your every email marketing campaign.
For instance, when Starbucks sends a mail stating about the Happy Hour starting on a Thursday afternoon, it's more likely to get people flocking to grab their favourite coffee. That's how you nail your timing with your emails. Not to be missed, they mentioned about the Happy Hour in the subject line: "See you at Starbucks® Happy Hour."

Source: Really Good Emails
Nail the subject lines
The first thing that your subscribers would see is your subject line. So, you better hit out of the park with them. In most cases, the subject line is the differentiator between an opened and an ignored email. Brands have been doing the same subject lines or at least on the same tonality, which has started turning redundant as readers filter them out as white noise.
To drive more conversions, it's indispensable to have good open rates, and subject lines go a great length in achieving that. However, it's not easier said than done. Here are a few tips to up your email subject line game:
Ask the right questions
If you strive to make a personal and informal connection with your subscribers, nothing's better than asking questions. Asking them about the issues they might be facing or their requirements would set the tone just right, and this would be reflected in your CTRs.
Keeping it straight
Nowadays, everyone receives emails from left, right, and center. So, clearing the clutter might just work for you. Inform your readers about what to expect from your emails. This would set the right expectations from your brand and its communication channels.
Tease them
Well, people love cliff hangers. Having a teaser in your subject line would make your subscribers curious, and they would click on your emails.
Reverse psychology
Now, this is an interesting one. Tell your subscribers to refrain from opening the email. It might sound silly, but it's an intuitive way to boost those CTRs. However, to sustain this practice, your emails should have high-quality content to create a pull factor amongst the subscribers.
Still can't make your way out from the maze of those subject lines? Seeking professional assistance would just work wonders for you. You can avail services from Mailchimp email experts or Marketo certified experts, and your CTRs would skyrocket through the roof.
Here is a brilliant example of how a crisp subject line can elevate the appeal of your email. The subject line for Postable's email says, "Refer your friends and get $$$." It is crisp and clear, and hence, the recipient knows exactly what to expect.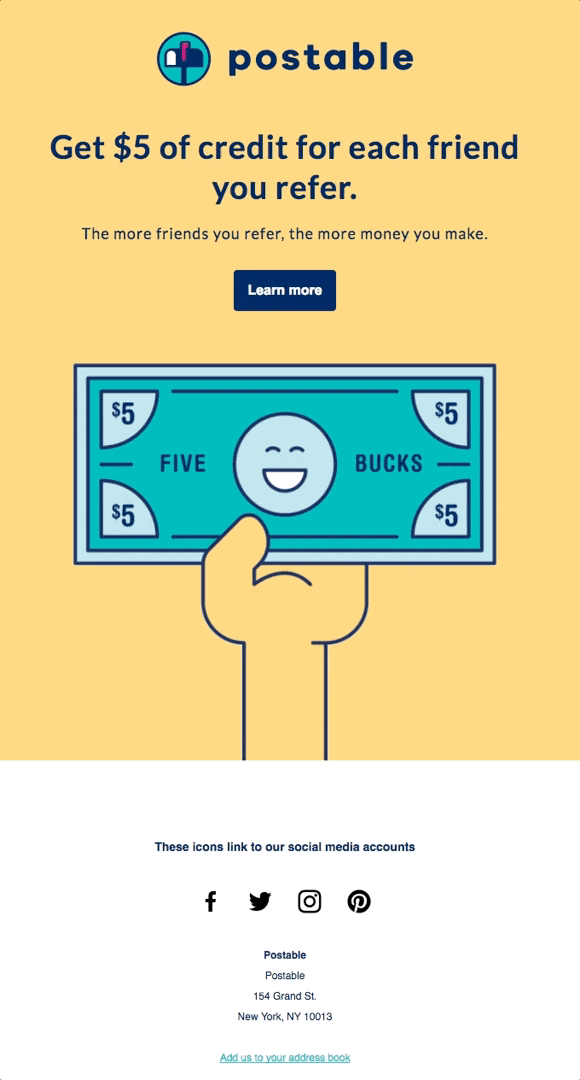 Source: Really Good Emails
Follow the best practices
Here is a comprehensive compilation that would improve your emails' visibility and make them a success among subscribers.
Make sure that you send all your emails from a verified business domain
Be clear about whether or not all your recipients have opted in to receive the emails from you
Make the 'adjusting the email preferences' process seamless in case they don't want to hear it all from you
Using merge tags in the "to" field would give a personalized touch
Wrapping up
All set for escalating your open rates? Well, the practices mentioned above may take a while, especially in the case of a large database. So, be patient, and good things will follow.
Author Bio
Kevin George is Head of Marketing at Email Uplers, one of the fastest growing custom email design and coding companies, and specializes in crafting professional email templates, PSD to HTML email conversion and free HTML email templates in addition to providing email automation, campaign management, and data integration & migration services.